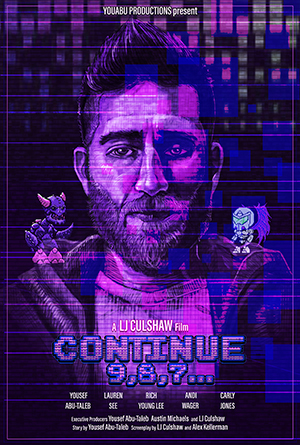 Continue 9,8,7.
Films
1H 21MIN
Already purchased a pass? Login
Availability ended 8/26/2022 EDT

"One man's struggle to get back in the game."
After losing his fiancé in a car crash, Randall (Yousef Abu-Taleb) contemplates the meaning of love and life while falling down the rabbit hole of drugs, alcohol, and women. Can he dig himself out of this rut and finish designing his video game - the only passion he has left - before his lifestyle kills him? When it feels like the whole world is against you, how can you continue…?
Credits
Directed by LJ Culshaw
Written by LJ Culshaw
Alex Kellerman
Production Company Youabu Films
Produced by LJ Culshaw
Yousef Abu-Taleb
Lucas James Culshaw
Austin Michaels
Cast Yousef Abu-Taleb
Lauren See
Carly Jones
Rich Lee
Andi Wagner